Cecilia Lartigue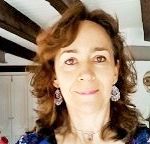 Doctorant
Equipe :
---
Adresse :
6 Av Saint Germier
31600 Muret
cecilia.lartigue@gmail.com, cecilia.lartigue@univ-tlse2.fr
Recherche
Gestion efficace de l'eau dans les contextes urbains
Information et Communication par rapport à la gestion efficace de l'eau
Analyse du discours autour de l'eau et de l'environnement
Communication de la science
Publications
Lartigue Baca, C. y Hernández, N. (2018) Ciencias y Tecnología. Biología. Primero de secundaria (Livre scolaire de Cinquième). Correo del Maestro. Mexico.
Lartigue, C. (2015) Efficient use of water resources for sustainability . En: Setegn, S.G and Donoso, M.C. Sustainability of Integrated Water Resources Management (IWRM): Water Governance, Climate and Echo-hydrology. Springer Verlag
González Villarreal, Fernando; Lartigue, Cecilia; Aguirre, Ramón, "Percepciones, actitudes y conductas respecto al servicio de agua potable en el Distrito Federal" (Perceptions, attitudes et comportements par rapport au service d'eau potable a Mexico). Revista Ciencias y Tecnología del Agua (IMTA). Vol. VII, núm. 6, noviembre-diciembre de 2016.
Lartigue, C., Negrete, A., Velasco-Rojano, E., González Villarreal, F. Photocomic Narratives as a Means to Communicate Scientific Information about Use, Treatment and Conservation of Water. Modern Environmental Science and Engineering
Lartigue, C., Licona Vázquez, D., Val Segura, R., González Villarreal, F. (2013) Catastrofismo y culpa en torno al agua: percepciones de los estudiantes universitarios (Catastrophisme et culpabilité envers l'eau: perceptions des étudiants universitaires). Revista Digital Universitaria. 14(10). En: http://www.revista.unam.mx/vol.14/num10/art38/
Negrete, A. and Lartigue, C. (2010) The Science of telling stories: evaluating science communication through narratives. Journal Media and Communication Studies 2(4).
 Quintanilla, S. y C. Lartigue (2007). Qué opinan los niños acerca de los libros de texto de ciencias naturales (Quelle est l'opinion des enfants sur les livres scolaires de sciences de la vie). Memorial de las cartas enviadas a la SEP, 2000-2006 Revista Mexicana de Investigación Educativa 35 (XII).
 Negrete, A. and Lartigue, C. (2004) Learning from Science Education How to Communicate Science as a Good Story. Endeavour 28 (3).