Marcin Trzmielewski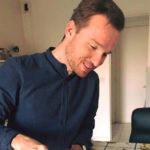 Doctorant
Equipe : CERIC
---
Adresse :
Université Paul-Valéry Montpellier 3, Route de Mende
34090 Montpellier
https://www.lerass.com/equipes/ceric/
https://twitter.com/MTrzmielewski
https://www.researchgate.net/profile/Marcin_Trzmielewski
Recherche
I'm a Polish PhD student in Information, Communication and Documentation. My researches and main interests include knowledge organization in libraries and in healthcare.
I am currently working my PhD thesis: "Information and Data in Allergology: Towards a Knowledge Organization Model dedicated to the Design of Info-communication Devices" (alias ALLERGIDOC) which is conducted through a partnership with the allergy unit of the University Hospital of Montpellier (France). The project mainly focuses on the study of informational practices and needs of allergists from academic hospitals and on knowledge organization in the field of Allergy. The research is funded by the Occitanie region.
Since 2018 I have also been working on Integrative Levels Classification (ILC), a faceted classification developped by an international team under the supervision of Claudio Gnoli. My main research question is how to apply ILC in the exchanging and mediation of open research data.
My thesis for the master in information and documentation studies, written in 2018, focused on the relevance of a documentary portal to promote information resources and services offered by a learning center. My bachelor report in management and dissemination of digital information in 2017 dealed with knowledge organization in academic libraries. During this last diploma I participated to an Erasmus traineeship at the Science and Technology Library of the University of Pavia (Italy), where I took part to the conception and development of SciGator, a DDC-based browsing library interface.

I'm member of the International Society for Knowledge Organization (ISKO), of the French Association of Information and Documentation Professionals (ADBS) and of the World Allergy Organization Junior Members Group.
Publications
Papers
Articles
Trzmielewski M, Gnoli C (2018). Un défi de recherche interdisciplinaire : Comparaison d'une classification disciplinaire avec une classification basée sur les phénomènes. Digital Libraries & Information Sciences. Available on: https://dlis.hypotheses.org/1895#more-1895 
Lardera M, Gnoli C, Rolandi C, Trzmielewski M (2017). Developing SciGator, a DDC-based library browsing tool. Knowledge organization 44, no. 8: 638-643.
Trzmielewski M, Gnoli C, Lardera M, Pallestrini GH, Sipić M (2017). Mapping Classifications and Linking Related Classes through SciGator, a DDC-Based Browsing Library Interface. Catalogue and Index 188: 30-33.
Conferences with proceedings
Binding C, Gnoli C, Trzmielewski M, Tudhope D (2020). Integrative Levels Classification as a networked KOS: a SKOS representation of ILC2. In: Knowledge organization at the interface : proceedings of 16th International ISKO Conference. Aalborg, 6-8 July 2020. Baden-Baden: Ergon, 2020. [Accepted]
Trzmielewski M, Caimmi D, Tanno LK, Ferrando L, Ducarteron, Demoly P (2019). What did the doctor say? Patients' comprehension of allergy consultations in a French university hospital. In: World Allergy Congres. Lyon, 12-14 December 2019.
TrzmielewskiI M, Gnoli C (2019). Une classification interdisciplinaire pour l'échange et la médiation des données ouvertes de la recherche. In: 12ème Colloque international d'ISKO-France 2019 "Données et mégadonnées ouvertes en SHS : de nouveaux enjeux pour l'état et l'organisation des connaissances ?", Montpellier, Université Paul-Valéry Montpellier 3, 9-11 October 2019. Available on: https://hal.archives-ouvertes.fr/hal-02307108 
Gnoli C, Ledl A, Park Z, Trzmielewski M (2018). Phenomenon-based vs. disciplinary classification: possibilities for evaluating and for mapping. In: Challenges and opportunities for knowledge organization in the digital age: proceedings of the Fifteenth International ISKO Conference 2018  16: 653-662..
Conferences without proceedings
Trzmielewski M , Demoly P, Tanno LK, Caimmi D, Gnoli C (2019). Information and Data in Allergology: Theoretical and Methodological Proposals to Build a Knowledge Organization Model dedicated to the Design of Info-Communication Devices. In: ISKO Low Countries Conference "Morsels of Knowledge". Bruxelles, Vrije Universiteit Brussel, 20-21 June 2019. Abstract available on: https://isko-lc.org/timetable/event/information-and-data-in-respiratory-... 
Trzmielewski M, Gnoli C, Lardera M, Pallestrini GH, Sipić M (2017). SciGator : a DDC-based browsing library interface. In: European DDC Users Group Annual Meeting (EDUG) 2017. Paris, Bibliothèque nationale de France, 28 June 2017. Abstract and presentation available on: https://ddc.typepad.com/025431/2017/07/2017-european-ddc-users-group-mee...